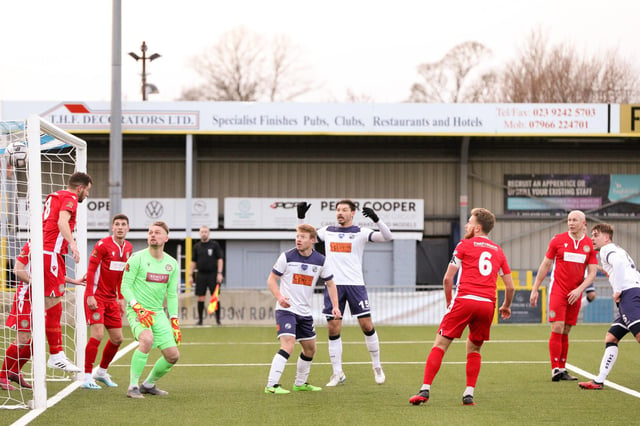 Sam Magri, far right, heads Havant and Waterlooville into a 2-0 lead against Hungerford Town. Picture: Chris Moorhouse
While virtually all non-league action below National South level is currently paused, in the sixth tier of English football – classified as 'elite' sport – life goes on as normal.
Well, at least as normal as it can be in the middle of a pandemic when fixture lists are being butchered by Covid-19, games are played behind closed doors, and clubs have no idea when their next financial bailout will be received.
Prior to the weekend, 15 of the previous 22 games in the NL South had been postponed due to players or staff members recording a positive Covid test result.
Bedsente Gomis (right of middle three) has just restored Hawks' lead in their 4-2 home win against Hungerford. Picture: Chris Moorhouse
In all, seven games scheduled for Saturday were also called off for the same reason. One of them – Tonbridge Angels v Dulwich Hamlet – had only been rescheduled last week after both clubs had seen their initial January 2 match called off by their opponents.
In all, Bath City, Dulwich, Eastbourne Borough, Maidstone, Slough, St Albans and Welling – more than a third of the NL South – were self-isolating at the weekend. Among St Albans' positive test results was manager Ian Allison.
There were two Covid postponements in the National League and two more in the National League North, the latter having not been as savagely hit as their southern counterparts in recent weeks.
In a way we were lucky, therefore, that Hawks' home game with Hungerford was able to take place.
The near empty main stand at Westleigh Park as Hawks take on Hungerford. Picture: Chris Moorhouse
This was a hastily-rearranged game as well, with Eastbourne due to cross the Sussex-Hampshire border prior to going into a 10-day self-isolation period.
We were also lucky, the handful of us there to see it, that it was a highly entertaining game too, the hosts winning 4-2. There could easily have been many other goals.
Hawks' own self-isolation period, which had seen them call off three league games, had only ended last Wednesday.
The following day's training session had been their only warm-up session prior to facing third-placed Hungerford, one of the few clubs in the league yet to have a single Covid case in an increasingly stop-start campaign.
Roarie Deacon – who wasn't even due to be in the squad after his father passed away from Covid-19 – in action against Hungerford. Picture: Chris Moorhouse
While Hawks were able to return to action, the pandemic had ripped through the club in the days and even hours prior to kick off.
Sadly, winger Roarie Deacon's father passed away from Covid-19 prior to Christmas. He wasn't even going to figure in the weekend squad, but ended up playing 90 minutes.
Loan midfielder Leon Chambers-Parillon's mother recorded a positive test result, so he was still self-isolating.
Anthony Straker's wife woke up on Saturday morning feeling ill, so the defender was not allowed inside Westleigh Park.
Striker Danny Kedwell was another to phone boss Paul Doswell in the morning, reporting his son was feeling unwell.
In addition, midfielder Theo Widdrington and winger Daniel Ajakaiye were also self isolating due to family members testing positive, and defender George Mclennan was suspended.
Kitman Richie Pope remains in QA Hospital with the virus, while other members of Doswell's backroom staff were also absent for the same reason.
Chief executive Stuart Munro was another self-isolating, while chairman Derek Pope had decided to stay away from the ground.
As a result, the game was played in front of an even more sparsely-populated stadium than in previous weeks.
The only people sat in the stand were the substitutes, a handful of officials from both clubs, and two members of the media, (myself and Cliff Pledge from BBC Radio Solent).
(Former Hawks boss Shaun Gale was also there as Solent's summariser; with his Gosport Borough side having not played a Southern League game since late October, and with no sign of a return anytime soon, if at all in 2020/21, at least he was able to take in some live action).
That was it, no-one else, apart from a couple of stewards. That is the state of 'elite' level non-league football in early January 2021. Incredible, when you take a step back and attempt to digest these crazy times.
Doswell confessed he had 'changed his team three or four times, dictated by circumstances', adding: 'That's the context of the world we live in.
'I've done over 1,200 games as a manager and this morning was one of the most stressful.
'It does put the game today into perspective, but we want to keep going for our mental health.'
Due to Straker's unavailability, Deacon was asked to fill in at left back.
'He's played there before for me at Sutton,' said Doswell.
'On Thursday he wasn't even in the squad because he wasn't mentally ready; on Friday evening I asked him if he could go on the bench – as we didn't have a bench.
'Then this morning I had to phone him up at 11am and ask if he wanted to start.'
With Benny Read nursing a long-standing shoulder problem – he could miss the rest of the season – Sam Magri was moved from centre half to right back. This was hardly a problem, though, as the ex-Pompey man has played internationals for Malta in that position!
With Chambers-Parillon missing, Doswell handed Christian Rowe his first NL South start – the 18-year-old having only previously made two sub appearances in cup ties against lower division teams. And Moussa Bakayoko, only signed two days earlier after leaving Dartford and having had just the one training session with his new colleagues, was thrust into the starting XI.
'I ended up dreading my phone ringing,' said Doswell of his pre-match preparations.
'I had to phone (Hawks vice chairman and the club's Covid officer) Tim Mellor three times on Saturday morning asking for his advice.
'Anthony Straker's wife had woken up feeling unwell, and that was enough in these incredible times we are living in.
'Tim said he couldn't be allowed into the ground – the same with Danny Kedwell.'
While most of non-league football is currently suspended, there has been talk of a circuit-breaker in the leagues that are still going on.
West Brom manager Sam Allardyce has called for a fortnight's break, while Ipswich Town officials were also keen on one before Christmas.
Most recently, AFC Wimbledon boss Glyn Hodges said after his side's EFL loss to Lincoln on Saturday: 'It's time for football to go into hibernation for a few weeks.'
The Premier League were able to pause the 2019/20 season due to UEFA postponing the European Championships, allowing them to play on into the summer. That isn't an option again.
And despite seeing four top flight games postponed in recent weeks – the latest was Fulham's clash with Burnley this weekend – PL officials are believed to be against imposing a circuit breaker.
Doswell is also in favour of carrying on until told otherwise.
'I don't think a circuit breaker would change things,' he remarked.
'We're all in tier 4 now, it's as good as a national lockdown.
'I don't see how a circuit breaker would change things.
'This (the stadium) is a very safe environment.
'But we will be dictated to by the Premier League. If they were to stop we would stop as well and I could accept that, but I would prefer it if we didn't stop.'
At present, Hawks have three-quarters of their league fixtures – 30 games – left to play between now and May 29.
Time is still very much on their side, though.
Though they are due to play every midweek for the next six weeks, starting with the return fixture against Hungerford on Tuesday, their only scheduled midweek game after February 9 is home to Bath City on April 14.
Hawks have eight more games scheduled for this month, and Doswell last week admitted he would be surprised if none were called off for Covid reasons.
'I know we could end up playing twice a week in March, April and May, but that would be ok – it's better than not playing at all.
'There's plenty of midweeks left.'