World champion. Olympian. Australian winter sports icon. Alex 'Chumpy' Pullin was all these things and more, but first and foremost he was a great human.
The Red Bull family lost a favourite son this week when 32-year-old boardercross legend Pullin drowned while spearfishing at home on the Gold Coast in Queensland. Our hearts go out to his friends, family and loved ones. We can't believe it.
The brave and the generous are seldom sorry
Born in Victoria, Chumpy grew up around his parent's ski rental shop in the shadow of Mount Buller, and naturally it was only a matter of time before he took his talents to the snow. At the age of three he was on skis, by eight he was riding a snowboard, and in the year Chumpy turned 15 he was crowned national boardercross champion. This set him on a lifelong path of travel and competition that peaked with winning World Championships in 2011 and 2013. Chumpy represented Australia at three Olympic Games, and in 2014 was the nation's flag bearer in Sochi, Russia. In a sport-mad country like Australia, honours don't come much higher.
An ambassador for his training resort of Mount Hotham and a long-time resident of Sydney's Northern Beaches, Chumpy had recently moved to the Gold Coast to make the most of the sunshine when not chasing winter. In each of these tightknit communities Chumpy was a hugely popular fibre of the local fabric, loved for his vibrant personality, endless positivity and unmatched zest for life. His easy-going manner and laidback personality were in stark contrast to his fearsome game day demeanour and spoke volumes for his ability to channel his energies to where they would serve him best. One-minute Chumpy could dedicate himself to pushing the limits of human performance, the next he would be happily sitting in a corner strumming away on his ukulele or beloved banjo. The rest of the time you'd generally find him surfing, a sport he loved nearly as much as snowboarding.
I'll never forget the early days on the hill together, chasing our dreams when we were far from home and our families, aspiring to ride for Australia one day
"The brave and the generous are seldom sorry," was Chumpy's mantra, and he lived it to the letter. A genuine human with a passion for life, Chumpy overcame growing up in Australia and all the hurdles that entails to become a winter sport world number one. In the lead up to the 2018 Olympics, Chumpy spent an afternoon busking anonymously on Manly Beach in Sydney, and after his musical talent brought in a princely sum, he promptly donated the earnings to the Movember charity, not that he would ever have told you that.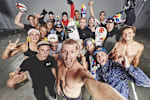 Chumpy was a Red Bull athlete for nine years. A natural team leader, he was a people person who treated everyone the same no matter their age, status or station in life. At Red Bull's Australian athlete summits Chumpy loved nothing more than taking much younger future stars under his wing, and they adored him for that. These relationships inspired a new desire in Chumpy to help others reach their full potential whether in sport, life or both. As well as many motivational keynote addresses, Chumpy led coaching courses to pass on the techniques and habits that saw him achieve so much success. "Anyone who knows me knows that I've worked out a pretty epic recipe for fulfilling life in and outside of my sport," said Chumpy on his personal website, and it was the truth.
Among his peers, there was nothing but admiration. "Chumpy was a great athlete and ambassador for our sport in Australia and around the world," says fellow three-time Olympic snowboarder Scotty James. "He accomplished great things on the board, but more than that he was a good person who loved life and took on every challenge with energy and passion. I'll never forget the early days on the hill together, chasing our dreams when we were far from home and our families, aspiring to ride for Australia one day."
"Chumpy was full of life!" says three-time world surfing champion Mick Fanning. "Always smiling and full of energy. He accomplished so much in his sport, but the work that he put in and the dedication to his craft was second to none. I've never seen someone work as hard as Chumpy."
"All I really want to be when I'm finished up in the sport of snowboardcross," Chumpy told Red Bull in 2013, "is hanging up my boots really satisfied with the racing, the memories, and within myself that I pushed myself to the maximum limit."
You did that and so much more, and the world will miss you like crazy. Rest in peace, mate.